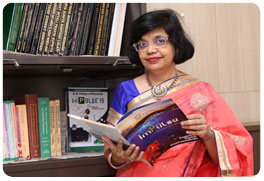 Dr. Anubha Khale
Indian Pharmaceutical Industry has tuned from local needs to global needs. It has developed infrastructure that complies globally. India holds maximum number of USFDA approvals for the manufacturing plants and stands first by volume in export of medicines. Thus, the scope of growth in the Indian Pharmaceutical industry is highly promising.
As the Pharmaceutical industry is knowledge based, a sound academic foundation is imperative to be a part of this high growth industry is imperative. The Pharmacy graduates are the knowledge resource for the growth of Pharmaceutical industry.
Keeping this in mind, H K College of Pharmacy strives at the over all development of its students in addition to the complete training in the field of Pharmacy; so that the students can take up challenges when they move on to their professional life.
We have also initiated the Post Graduate level (M.Pharm) in Pharmaceutics. At the PG level, H K College of Pharmacy takes every effort to inculcate research aptitude among the students.
In years to come, we would continue to move on for more PG courses turning H K College of Pharmacy into a research hub.
 Dr. Anubha Khale
M.Pharm Ph.D (tech) MBA
Principal, H K College of Pharmacy